Super Cute Ice Cream Binder & Postcard
I know, I know I'm being one of those annoying cross posters but I just couldn't help it.  The images are also up over at Cute Custom Crafts and I really couldn't help but put these here too. It's a fun and sweet binder (designed by me, of course) and it's easy and quick to customize.
Plus, as an awesome bonus, you can use the postcard to use it as a gift (yep, kiddo's birthday translates into art for me).  Plus, it has been a while since I've posted something here from the shop, and I'm trying really hard to be good about that (good basically just means not to repost a million and one things, so yes- this is good).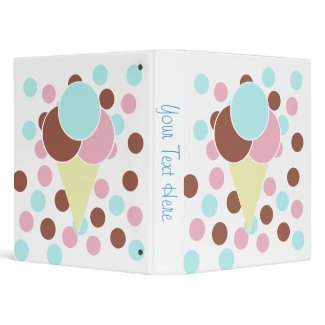 Custom Cute Ice Cream Cone Binder by NixxysPicks
New and fun goodies in my shop, to check them out head on over to Nixxy's Picks!
---
---